Testimonials
The best customer retention rate in the business.
But, don't take our word for it.

Read what our customers say about our team, our product, and our service.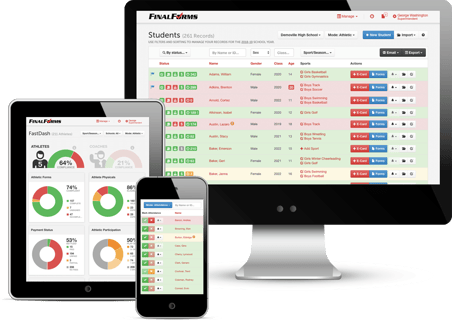 THE BEST IN THE BUSINESS
FinalForms simply offers the highest level of guidance and support from the first discussion throughout the lasting relationship.
Paul Powers
Athletic Director,
Aurora City Schools, Ohio
Past President,
OIAAA
"The best product I've used in my career as an Athletic Administrator. Fast, reliable, and easy-to-use."
Mike Bakker
District Athletic Director,
Fenton Schools, Michigan
Asst. Executive Director,
MIAAA

"FinalForms is an athletic compliance engine. They are always building features to keep us up-to-speed with evolving MHSAA and NFHS guidance. Plus, the reports and reminders help keep our department, coaches, and athletes informed and compliant."
William Fritz
Director of Technology,
Sycamore Schools, Ohio
Executive Director,
Learn21, Ohio CoSN

"FinalForms listened to our needs. We pushed them outside of their box, and they excelled. They focus on the customer and walk the path with you."
Jeff Lowell
District Athletic and Activities Director,
Title IX Coordinator
Bellevue Schools, Washington

"We've increased enrollment in clubs, athletics, and activities because it streamlines so many processes into a simple workflow for parents, educators, and administrators."
Dr. Jim Wright, Ed.D.,
Supervisor of Phys. Ed, Health, Athletics and Recreation,
South Huntington Schools, NY
Associate Executive Director,
NYSAAA
"Our investment in FinalForms paid dividends in a critical situation where a coach was able to use an online E-Card to assist in a 911 situation. Took less than 5 minutes from arrival of EMT to actual transport. Student was safe. Parents were thrilled."
Ken Collura
Director of Technology,
Bishop Hartley, Ohio
"As a Director of Technology, FinalForms is the one company that I can truly rely on. They do exactly what they claim to do and deliver timely answers when I need them."
Cody Marlow
Athletic Director,
Wahluke, Washington
"Our students are 99% ESL and FinalForms meets 100% of our needs. It makes my job better every day."
Jamie Lee
Athletic Director ,
Cleveland High School, Johnston County, North Carolina
"Physicals. Physicals. Physicals. If FinalForms does one thing above all else, it automates physical expiration reminders and keeps parents, athletes and coaches updated on eligibility."
Next Steps?
Our Team is comprised of former Administrators, Teachers, and Coaches. It's time you talk with someone who 'gets it'.