eBooks and Posters
Gain valuable insights from our experience with educators.
Our eBooks and posters distill actionable concepts from thousands of hours of experiences with superintendents, athletic directors, and technology directors.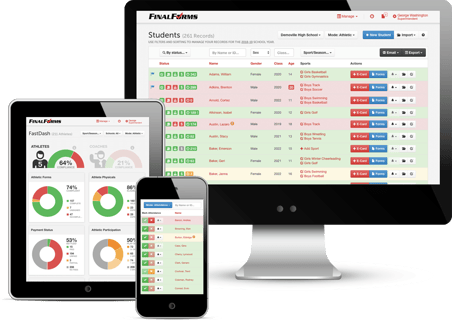 READ ONLINE OR PRINT
Read today and change your school tomorrow.
21 (Yes, 21) Forms You Should Have Your Coaches Sign Every Year
Click: 21 (Yes, 21) Forms You Should Have Your Coaches Sign Every Year
Every athletic department should have their coaching staff sign forms for various important reasons including safety, compliance, and protections. Coach forms can eliminate costly legal processes, reduce time-consuming documentation, and simplify organizational procedures.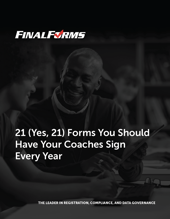 Download the eBook to learn more about:
Coach Health & Safety
Requirements & Duties
Rules & Responsibilities
Guidelines, Goals, and Codes
Policies
Waivers
PLUS: 14 Legal Duties of a Coach


20 Must Have Forms
Click: 20 Must-Have Online School Forms for K–12 Athletic Programs
Check our these essentials forms to help inform your coaches, parents, and athletes to keep your department compliant and your athletes safe.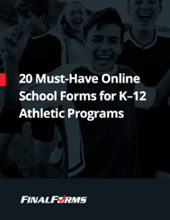 This ebook outlines:
13 must-have forms for athletes
7 essential forms for coaches
5 steps to ensure 100% form completion
Next Steps?
Our Team is comprised of former Administrators, Teachers, and Coaches. It's time you talk with someone who 'gets it'.